ABPI:
Tailoring the Digital Experience Through Optimised Search
Situation
A trusted voice within the pharmaceutical industry, ABPI needed search that could serve many audiences with the best results.
Solution
Seeking a search solution that was easy to fine-tune and could improve its digital presence, ABPI implemented Cludo.
Impact
Through relevant search, ABPI improved retention and increased total time spent on its website.
"When we look at how people are using our site, we can see that search is one of the top 10 items. That's not because the website isn't well structured.

It's because the search engine tool is very powerful at providing the right information quickly.

" – Michael Theodore, Head of Digital, ABPI.
The Association of the British Pharmaceutical Industry, or the ABPI, is the trade organisation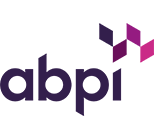 that exists to make the UK the best place in the world to research, develop and use new medicines and vaccines. They represent companies of all sizes who invest in discovering the medicines of the future. As a trusted voice within the pharmaceutical industry, the ABPI serves many audiences through its various websites.
Each audience has very specific material and information they seek, thus the need for intelligent, relevant search results. After going through a website redesign, the team at the ABPI found the search built into its CMS was not providing the best results, leading them to find a search solution in Cludo.
Meeting every audience's needs
The ABPI serves a wide set of audiences ranging from school-aged children to patients and providers. To best serve each of these demographics, the digital team at ABPI maintains several websites to serve distinct purposes.
"We have a number of technical audiences and what we look at is what they search for and how we can best help them. We have a number of engines which are adjusted for that particular audience," says Michael. "That's really useful for us because we can make that search very relevant to a particular audience with a particular set of terms."
Across these websites, the common goal is to provide the best experience possible, which includes an intelligent, relevant search function.
Corporate site
The main ABPI corporate website utilises search to guide people to the correct area, whether they are a patient, student or member.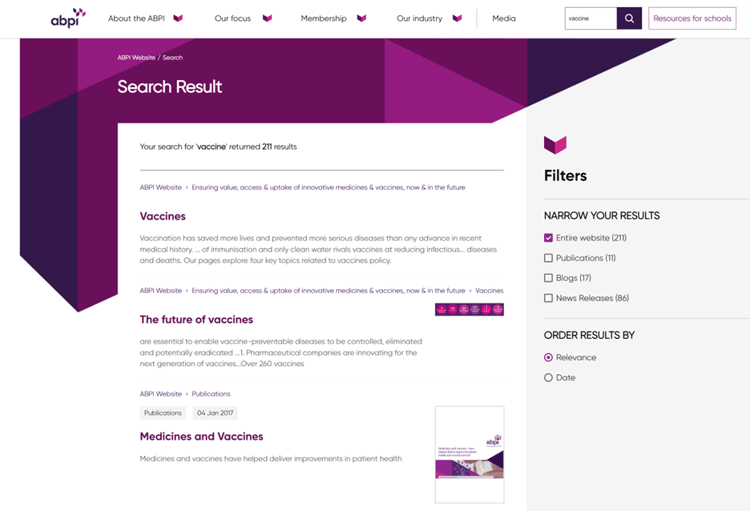 The ability to customise search through Banners and Boostings improved the ABPI's overall relevance. The use of Banners supports and directs searchers to this site for patient advice - which could be lifesaving.
"We are very patient-focused. For example, we don't carry information about particular drugs or medication, but we can see there's hundreds of searches being done on those," says Michael. "What we decided to do is produce a banner which will then say, if you are looking for this medication, this is the resource you want to use."
Additionally, an unexpected benefit of optimising the corporate site search is how useful it's been for employees. The team has seen an increase in internal use because the search is relevant and helps them quickly find the content they are after.
Schools site
This website is aimed at schools following the UK curricula; however, the content is accessed from over 130 countries. Capturing more traffic than the corporate ABPI site, it's important that the schools site provides a fully inclusive experience to every visitor.
To achieve this, ABPI made search friendlier to the younger, international audience by incorporating colours and visually appealing elements and using a wider range of search terms to increase relevance. The results page also allows searchers to narrow results through a variety of filters, from age group to subject matter.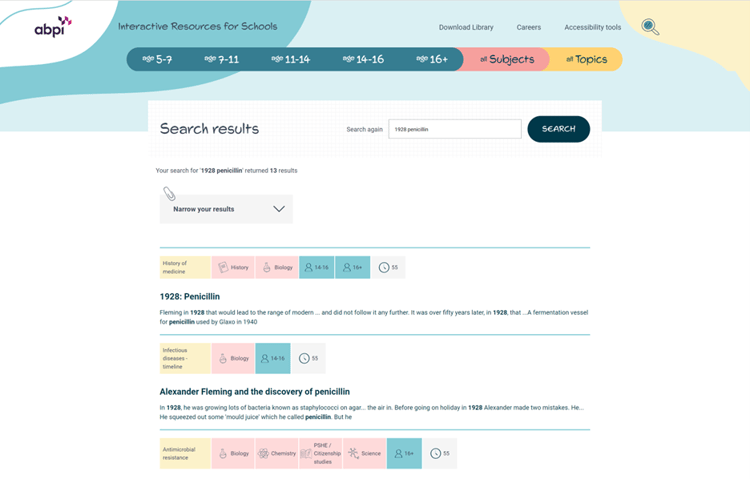 These changes have improved stickability and keep people engaged on the site longer. In some cases, visitors stay on a page for up to three minutes!
National Health Service site
One of the main goals of the ABPI is to build better partnerships between the pharmaceutical industry and the UK's National Health Service (NHS).
The NHS is a highly technical audience that uses very specific search terms. When looking to grow the partnership with the NHS, the ABPI found implementing an NHS-specific filtered search results page was very effective.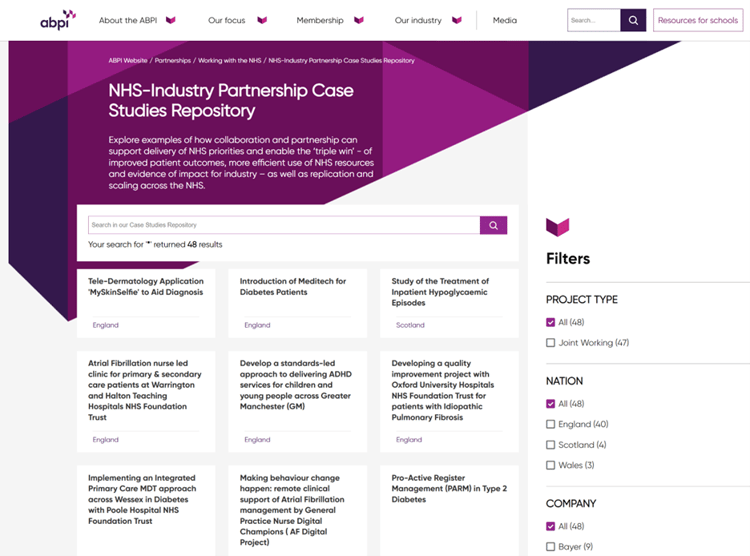 Offering an NHS-focused search helped the industry connect with the NHS and increase knowledge of how products and processes benefit patients.
Publications site
As a conduit for research and development within the medical field, the ABPI produces a lot of publications. The publication section is a heavily used part of the ABPI website.
Each publication is its own media file and the ABPI tags them before adding to the site to make them more accessible via search. By tagging relevant terms within each media file, visitors are pointed to each relevant publication. Instead of sifting through pages and pages, they can easily find media through filtering.
As a highly regulated industry, it's important that ABPI visitors are provided with the most recent version of publications. Take for instance the Code of Conduct. When a new version is published, the team at ABPI will tweak the correlated boosting and page ranking so the latest version shows up first, with other versions listed below. With this simple change, not only are visitors served the timeliest publication, they are still able to sift through older versions if necessary.
The benefits of optimised search
Through optimising its search, the ABPI continues to improve retention and even increase total time spent on its website.
With the ability to customise its search without the need of developers, the ABPI tailors each experience to the individual. From there, they can interpret what content is being viewed, which search results are working and adjust content accordingly.
"People come to our site, and they stay longer.
We rank higher on Google, people find terms, land on pages, stay longer and engage more.

For us, that's success. And if that's what you're after, I think it's pretty powerful."
To hear more about ABPI's experience, watch our webinar
"Improving Site Search Relevancy for 2023".