Boise State University:
Supporting the Student Journey Through Search
Situation
From prospective students to faculty and alumni, Boise State University serves a wide demographic of audiences through their network of websites.
Solution
Providing an intuitive search experience while maintaining control of their ever-changing content lead the team at Boise State to implement Cludo search.
Impact
The team now efficiently manages their complex ecosystem of web pages, links and users while supporting the university's mission.
At the heart of every college and university is the multitude of audiences it serves.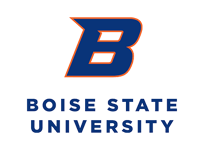 From prospective students to faculty and alumni, universities and their online offerings are a complicated ecosystem of portals, catalogs and directories. A situation all too familiar for the team at Boise State University.

The largest university in Idaho, Boise State University supports over 5,000 employees and 25,000 students through their expansive network of over 600 websites.

"The goal of our website is to serve students, faculty, staff, and our community," says Shad Jessen, Director of Communications and University Web Strategy. "The primary mission of the university and its website is to recruit and retain students and ensure they have the information they need during their journey at the university."

With such a wide demographic, providing an intuitive search experience was crucial to the team at Boise State, leading them to Cludo.
Controlling content across all university sites
At any given time, the team at Boise State is creating and publishing new content. With over 1,000 users managing upwards of 50,000 pages, that can occasionally cause hiccups. One of the unique benefits of Cludo is the ability to control and remove unwanted or unapproved content published by users within the institution's web environment.

Additionally, the team at Boise State can quickly make updates to URLs, ensuring that visitors searching for specific content find the correct information within minutes instead of relying on third-party search engines to crawl the data and manually adjust.

With so many departments involved with the website, the Intelligent 404 feature has been helpful in identifying dead links that need to be changed. Once found, Shad can notify administrators and their respective teams to ensure the correct URLs are available.
Managing ever-changing information
The class offerings at any university vary based on growing or declining interest. By looking into their search analytics, the team at Boise State is able to find any occurring ineffective searches once a class is no longer offered at the university. After seeing repeated search queries for these former offerings, Shad is able to direct visitors to the most up-to-date information by creating dedicated landing pages.

Boise State University offers a cybersecurity degree program that is heavily promoted throughout the website. There's also a separate, highly frequented website dedicated to cybersecurity compliance information. With two areas of similar content that have completely different goals, this was an instance where Shad and his team had to make a decision on how to display this information within search results. Which to promote: the degree program or the compliance website?

"It's things like that where you have to make executive decisions about what's most important to the university or the university's population, to its mission of serving students." says Shad. "Cludo makes it easy to execute those decisions."

Ultimately, it made the most sense to promote the degree program to benefit current and prospective students, leading Shad to create a Boosting promoting that content while deprioritizing the compliance website.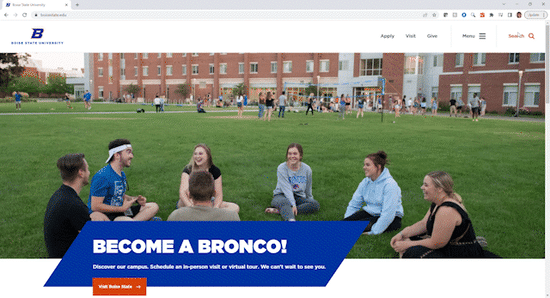 Search for "cybersecurity" returning the degree program as a top result
Modifying content based on seasonality
Search trends vary throughout the year, depending on the season and semester. Some of the highest search levels occur the week before each semester begins, encouraging Shad and his team to pay more attention to what visitors need.

For instance, in the summer months there is an increase in searches for everything housing: "One of the biggest hits on our site right now is about housing," says Shad. "Whether it's finding a roommate or using the roommate matching tool that we have, or logging into our housing portal to register for housing. I'm very cognizant of ensuring that's working correctly. I've got a Quicklink set up for those."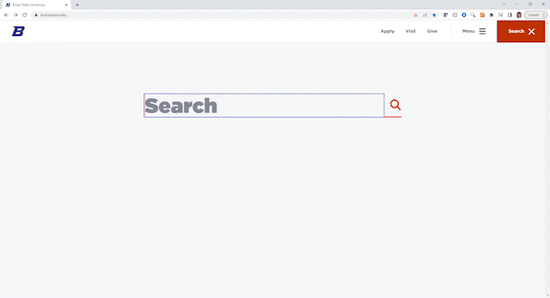 Quicklink for roommate matching, leading to the housing portal
Catering to every audience through their search patterns
Through Cludo search analytics, the team at Boise State uses Cludo tools to meet the needs of their many audiences.

"Higher education is unique in that we've got people who are teenagers all the way up through age 80 or above who are regular users to our site," says Shad. "When it comes to trying to figure out how to provide metadata so that people from all walks of life and all generations can find what they're looking for, we take that into account."

Whether a visitor uses brief queries with one or two words, or they search with full phrases and natural language, the goal is to ensure they are met with accurate results. Diving into search analytics has helped the team at Boise State identify those gaps and quickly resolve them with tools like Synonyms and Quicklinks.


A university-wide labor of love
Implementing Cludo has helped the team at Boise State maintain content accuracy in an efficient manner while providing insights into what works and what doesn't on their website.

Through optimizing their search, Boise State University efficiently manages their complex ecosystem of web pages, links and users and support the university's mission of helping every visitor find what they need.
"The data that the Cludo dashboard shows me is always very helpful and exactly what I want and need," adds Shad. "I can quickly login at any time to make changes and see what my priority should be when running and configuring our local search."