How London Borough of Tower Hamlets Uses Intents for
Content Creation
Situation
When it comes to managing your website content, the more data you have, the better. But it can be difficult to discover the patterns in all that data.
Solution
That's when organizations like the London Borough of Tower Hamlets turn to Cludo's unique feature: Intents.
Impact
The Intents feature has been especially useful for the London borough when it comes to tracking visitor behavior and trends – and adapting to them.
Building bridges between user data and content delivery
Tower Hamlets is a diverse and vibrant area in London's East End. From the buzzing streets of Brick Lane to the award-winning green spaces in Victoria Park, you truly get the best of London in one borough. No one knows this better than Cludo's customer, the London Borough of Tower Hamlets.
"With a population of over 300,000, Tower Hamlets boasts one of the most culturally diverse communities in London and as a council we need to cater for a variety of needs", says Phillip Nduoyo, Digital Officer at London Borough of Tower Hamlets.
The council's website is one of the most effective ways they cater to these varied needs. Residents stay informed through a variety of online services. The website also acts as a channel of communication allowing residents, visitors and businesses to easily contact the council. Most users are accessing their website from a mobile device, looking for information on parking, jobs, and council tax. And with over 3.5 million visits in 2019, the London Borough of Tower Hamlets certainly has a lot of data to learn from.
So when looking for a way to better consolidate and analyze all that data, the council was looking for an intuitive, AI-driven tool. Enter: Cludo's Intents.
Intents is a feature that uses machine learning to consolidate your search terms into common topics.
This provides customers with a quick and easy overview of what topics are trending among their website users, rather than spending hours manually analyzing thousands of search terms.
"Intents have helped us make more informed decisions about how we structure content on our corporate website", says Phillip. As a Digital Officer at the borough, Phillip is responsible for keeping their digital channels running. This involves monitoring performance and visitor trends and behavior while adapting the website to meet demand.
With a good amount of daily tasks to ensure their website is meeting visitors' needs, Phillip and his team rely on a good toolbox – a strong set of resources that will help them keep track and optimize content.
That is why London Borough of Tower Hamlets is actively using Intents to monitor search patterns and make sure they deliver the right content to their users.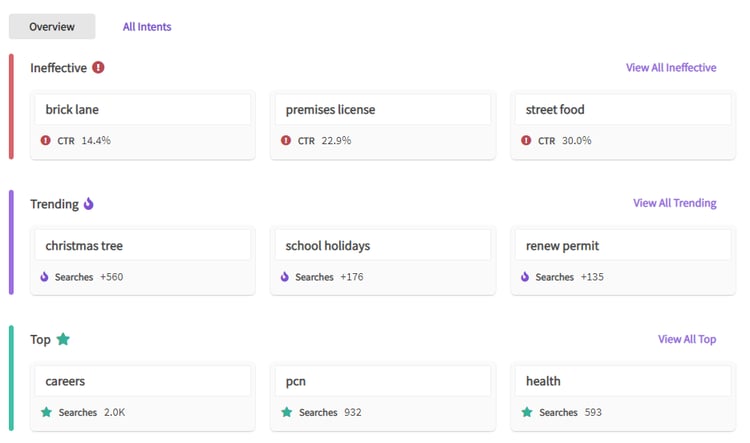 How Cludo's Intents Feature Works
So how does Intents work? The Intents feature uses AI to determine overall search patterns by analyzing different search terms that lead visitors through a similar path to find content on the website. As for how it's used? "We use Intents…primarily as a tool to justify content changes and monitor seasonal and abnormal trends," says Phillip.
Intents is based on machine learning, which means it relies on a high level of search activity to provide accurate intents. Each Intent requires at least 2,000 searches to form, while more accurate intents include at least 5,000 searches. That's a lot of data for one person to parse through manually – which is why Intents can save organizations so much time.
As customers read an overview of their Intents, they are also able to open a more detailed analysis of each Intent. The detailed view allows you to see the overall search activity and CTR as well as each search term that is grouped under the Intent. London Borough of Tower Hamlets utilizes this Intents data in a consistent routine.
"We check what's trending and see how this marries up with seasonal patterns," says Phillip. "For example we expect to see 'school applications' or 'admissions' when we start promoting the opening of our school admissions process." The data provided in Intents will help the team understand whether user expectations are met or if there are any content gaps that they need to address.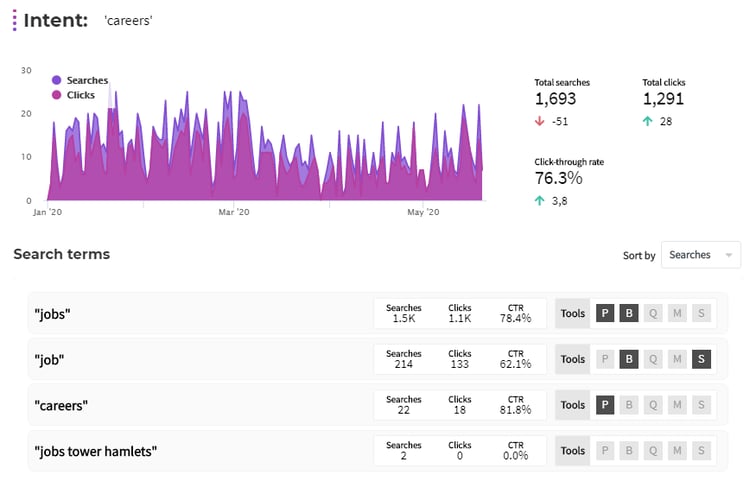 How London Borough of Tower Hamlets uses Intents in their content strategy
Tower Hamlets believes Cludo has been a hugely impactful resource when it comes to monitoring and adapting to user behavior. The Intents feature especially helps them track visitor behavior and trends – and adapt to them. "It's especially helpful when plugging gaps in the content we share with our audience", says Phillip. "Seeing an increase in ineffective search intents for 'renew permits' tells us we need to take action. We can then resolve it in a number of ways from adding a banner to moving a page to a more prominent part of the website."
Cludo was founded in 2015 with a clear message: Your search is the only place on your website where your users tell you exactly what they're looking for – in their own words. Make sure you listen to them. London Borough of Tower Hamlets has taken this truly to heart, paying close attention to search behavior whenever they make a change on their site:
"As we plan on re-engineering the website, the intents will help us make crucial decisions about the new information architecture and design by telling us what our audience is looking for. When we know what they want, we develop our offering to cater to their needs," said Phillip.
Interested in saving time and creating a more data-focused content strategy?
Contact Cludo today to see Intents, and our other unique tools, in action.