How Kamstrup Increased Site Search Usage by 350%
Situation
For Kamstrup's site visitors, it was easier to call during open hours to find a document, than to find it on the website.
Solution
As part of a larger initiative focusing on improving the digital customer experience, the Danish manufacturer chose to focus on optimizing their onsite search.
Impact
The overall optimization of the search paired with an updated, more user-friendly look has resulted in search sessions increasing from 3,27% to 15%.
Understanding the customer experience
Kamstrup is a leading manufacturer of intelligent metering solutions and services for the energy and water industry. With a presence in 25 countries, Kamstrup is committed to providing its customers with data, insights, and solutions to reduce water loss and increase energy efficiencies.
As an industry leader, Kamstrup takes pride in its ability to grow long-term relationships with customers through innovation and understanding. Their website is a primary channel to interact with customers and provides resources from product solutions to knowledge and insights.
Kamstrup originally had a separate website for product documentation. The separation created a poor customer experience as it was challenging to know which site to visit. In an effort to digitize their solutions and improve the user journey, the decision was made to move everything to kamstrup.com and make the documentation more accessible.
"It was very important that when we closed one domain and made the switch, it should be easy and seamless for our users to find information," says Sebastian Trabjerg, Digital Marketing Specialist at Kamstrup. "A natural part of that is using site search."
Building a better search
The marketing team at Kamstrup discovered very few visitors were using their site search because of the lack of relevant results. In fact, only around three percent of their website visitors were using the search function, causing an increase in customer calls. The back end of their search was also complex and required manual effort to adjust any of the results. They knew it was time for an improvement.
Kamstrup began weighing their options and the benefits of buying a search solution versus building one. With a big initiative ahead of them and a tight timeline, the team at Kamstrup put together a list of what they needed from a new search, including:
• A flexible, easy-to-use solution
• An inviting, more user-friendly look
• The ability to implement a global search with multiple engines
• Search results that support varying languages and abbreviations
• Insights into overall search data
• Less complexity on the backend and the ability to adjust results
"We wanted to know more about the search behavior," says Michael Bjerremann Larsen, Digital Marketing Specialist at Kamstrup. "What searches are trending? Which are giving no results? We need to start using the search data from our visitors."
With their list of needs established, the team at Kamstrup began the next steps towards a better search.
Partnering with Novicell and Cludo
A trusted partner of both Kamstrup and Cludo, Novicell is a digital agency based in Denmark. After meeting Cludo at Novicell's Forretning Online conference, Kamstrup began discussions about Cludo's intelligent search tools and optimizing for the customer journey.
After receiving a demo page from the Professional Services team at Cludo, all three parties had a constructive dialogue on how exactly the search needed to look and function.
"In terms of customer experience, we wanted a more user-friendly look, but we also needed a more flexible back-end, with the opportunity to optimize search results." says Michael. "We should have more control than we had before, and Cludo ticked that box."
Another deciding factor for choosing Cludo was the small amount of development time that would be needed on Kamstrup's end. Ultimately, Kamstrup was impressed with Cludo's ability to work towards solving to their business challenges.
"Our dialogue with Cludo proved constructive and we quickly felt like we were on the same team. It is definitely important when choosing partners," says Michael.
Kamstrup's search now displays pictures of the products within the search results, with different calls-to-action, depending on the visitor's needs. Visitors can also filter results, and even see popular or recent search terms.
An increase in search sessions from 3,27% to 15%... and an unexpected benefit to employees
The changes to their search have proven to be an immense improvement, with noticeable changes in successful searches after only one week. The overall optimization of the search paired with an updated, more user-friendly look has resulted in search sessions increasing from 3,27% to 15%.
Kamstrup's search before implementing Cludo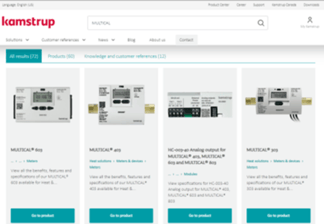 Kamstrup's search after implementing Cludo
Using a search solution like Cludo made it easier for Kamstrup's marketing team to modify and adjust their search when needed. For instance, they successfully used the Boosting tool to downgrade discontinued products within their search results.
"We wanted more people to get accurate results and improve navigation by creating synonyms and ensure that the most important results are getting the most exposure" says Sebastian.
Kamstrup has also gained further insights into how visitors use search in different locations and languages. One unique insight being German sessions which was almost twice as likely to use search compared to a few other languages. With data like that, the team at Kamstrup can decide if they should add more long-form content in German, in order to answer those visitors' queries.
One unexpected benefit of improving their search is the positive impact it has had on their employees. By making the search more seamless, the Kamstrup employees have found it easier to find information. After launching the new and improved site search there has been an increase in employee search volume, and subsequently an increase in demand for content updates. What was initially meant to be an enhancement for customers is now also benefiting Kamstrup's over 1,500 global employees.
Continually improving the customer experience
Currently, Cludo and Kamstrup are implementing another custom search bar on their product center front page to help visitors find product-specific information. Sebastian has found the continued support beneficial as they take on new goals and projects. "It's nice to know that we get the qualified assistance when needed," he says. "The team has been very good at helping us. It's not like we have been left by ourselves after the launch."
Kamstrup's marketing team is also exploring how this transformation is impacting inbound efforts and content strategy. By analyzing search behavior, they can see if they have content gaps and prioritize creation.
At the forefront of these new projects is the same focus: Kamstrup customers. Kamstrup is continually dedicated to providing innovative solutions and optimizing the customer experience by delivering relevant results.
"Visitors should find what they're looking for quickly, rather than having to dig deep into the website." says Sebastian. "The increasing share of visitors using the search bar is a clear signal that people find it beneficial and that their customer journey has been improved."
Ready to optimize the customer experience with intelligent search?