Infographic
Why Site Search Matters
Every website has a search bar. But that doesn't mean every website takes full advantage of the powerful search tool they have in front of them. In fact, you may find yourself asking "Why does site search matter?"
There are hundreds of answers to that question: from increasing conversions to affecting user engagement, site search can have a massive impact on both your website and your overall business.
That's why we put together this infographic titled "Why Site Search Matters." Ready to learn why intelligent search is such a crucial part of your marketing strategy? Scroll below to get started!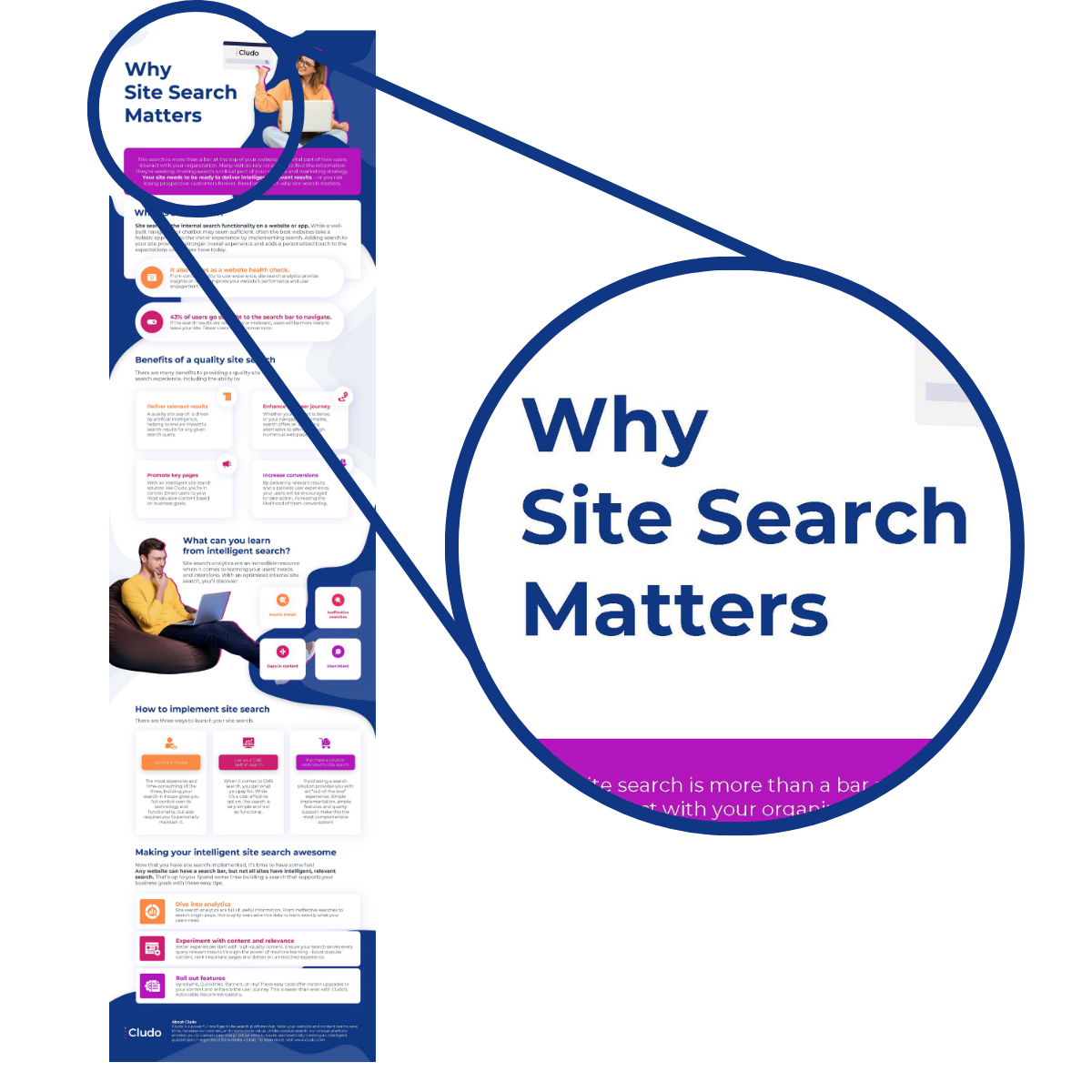 What is site search?
Site search is more than just a box at the top of your website – it's one of the most important ways to communicate with and understand your site users.

Many visitors rely on search to find the information they are seeking, making search a critical part of your website and marketing strategy.

Studies show that 43% of users go directly to the search bar as soon as they arrive on a website. That means a search feature is not an added bonus any longer: it is a necessity. Every website with complex content and hundreds (or more!) of articles needs to be ready to deliver intelligent, relevant results — or you risk losing prospective customers forever.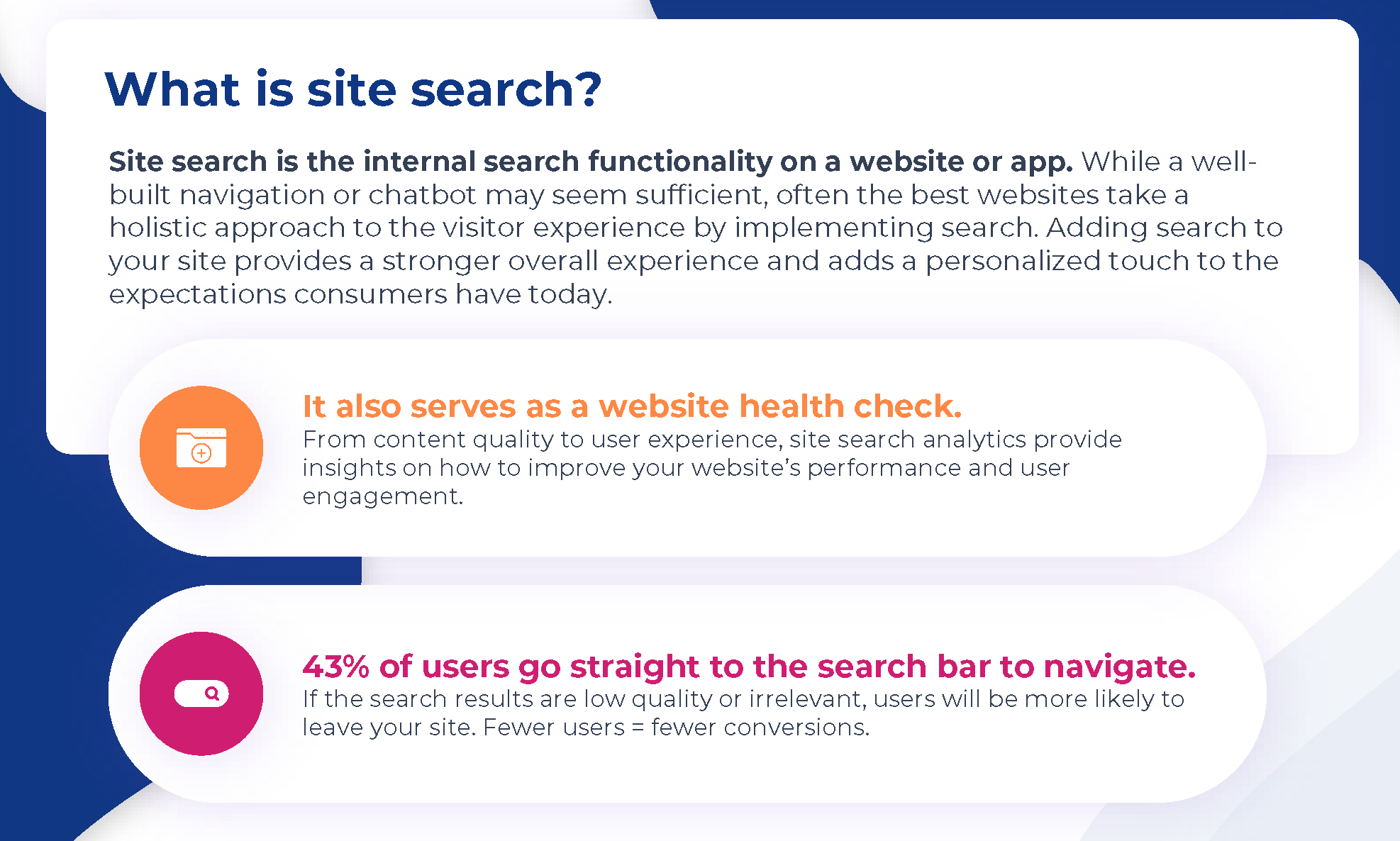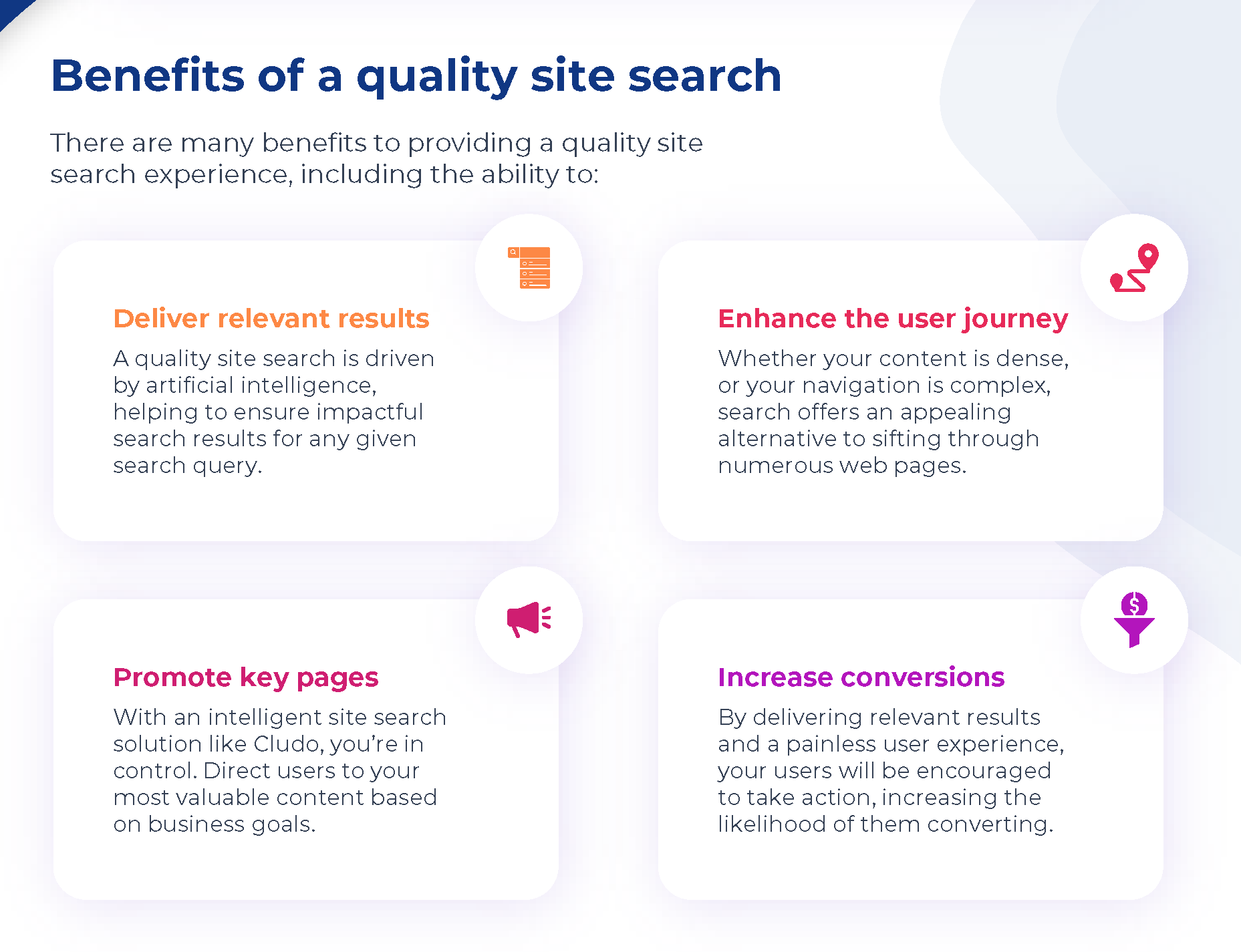 Benefits of a quality site search
The benefits of a quality site search are endless!
Looking to enhance the user journey?
Promote key pages?

Increase conversions?
Deliver

tailored and relevant content

to every visitor?

Site search has you covered.

With intelligent site search, you're in control.
What can you learn from intelligent site search?
Intelligent search is powered by machine learning, making it easier than ever to maintain relevance across millions of site search queries — learning, refining and improving as it goes along.

With an optimized and intelligent search you have access to extensive analytics. These analytics give insights into user intent, what content your users are looking for, whether it exists or not on your website, and gauges how well your content is performing.

Beyond identifying gaps in content, intelligent search can help drive your overall marketing strategy. Whether it's a website redesign, navigation restructure or content roadmap, intelligent search provides the insights needed when making informed business decisions.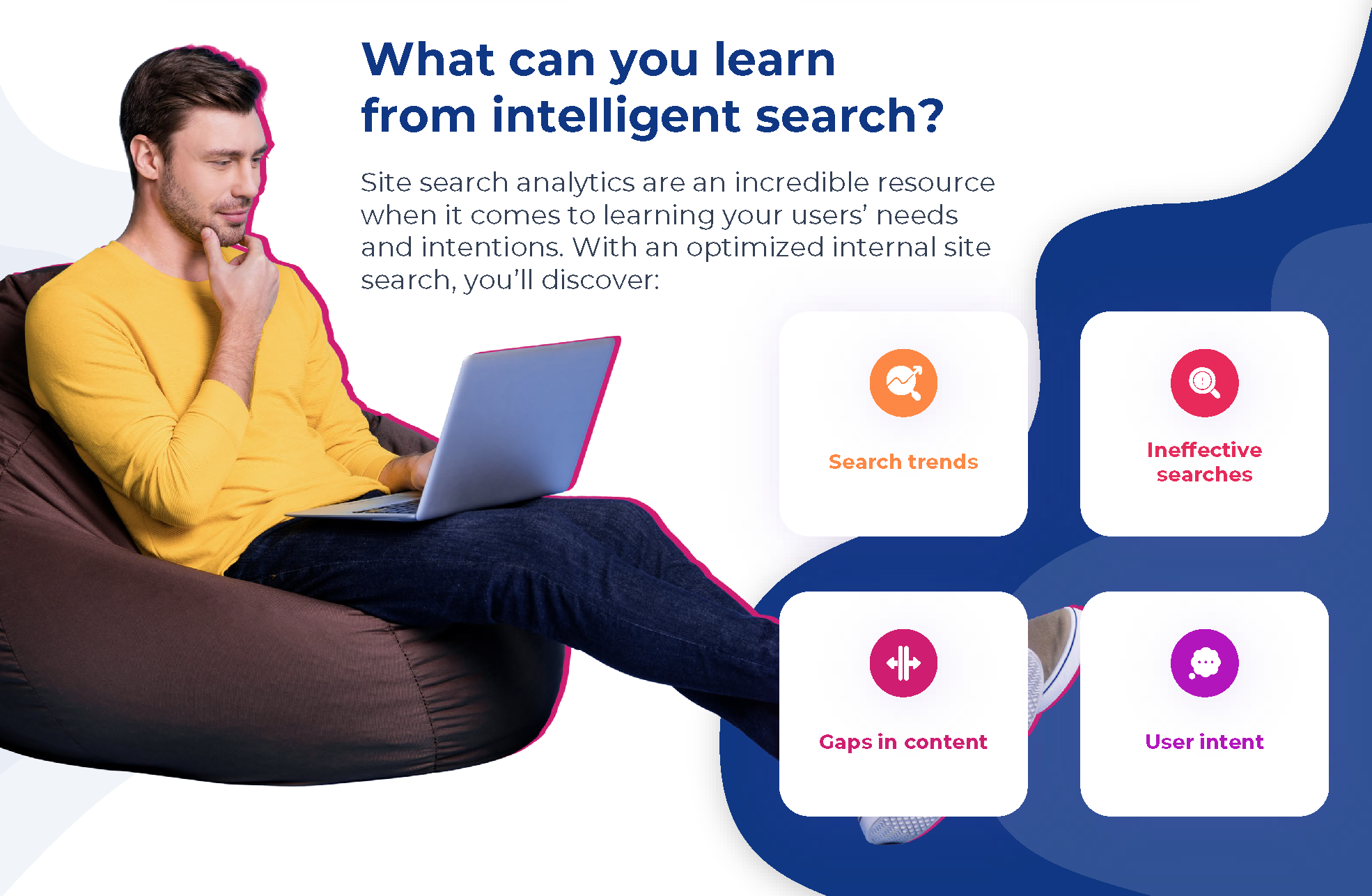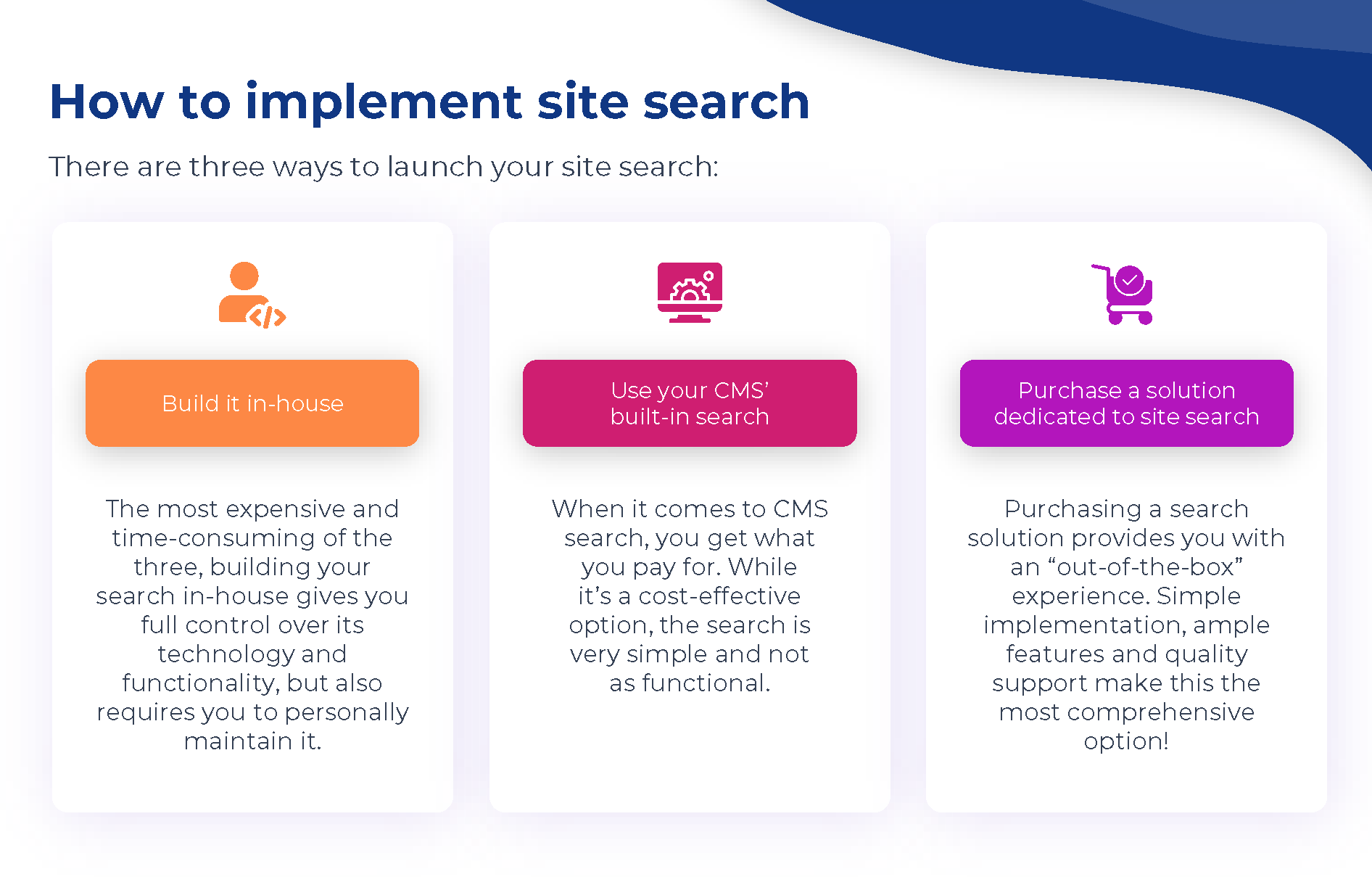 How to implement site search
Now that you know the importance of a quality site search, it's time to get down to business and implement search on your site! Unsure which search implementation is the right option for your company? Look no further than these three options:
Build it in-house
Use your CMS' built-in search
Purchase a solution dedicated to site search (Get a

demo of our solution here!)
Making your intelligent site search awesome
Once your search is officially live comes the fun part — making it awesome. After finishing your implementation, it can be difficult to know what to tackle next. Any website can have a search bar, but not all sites have intelligent, relevant search. That's where your newfound expertise comes in!

Intelligent search is your new secret weapon, so take some time getting to know the capabilities of your solution. An easy place to start is with your site search analytics. Look for trends within your analytics as well as content that may be missing.

From there, experiment with content. Examine all of your users' searches and form a content strategy from there.

Once you've looked through your analytics and identified how to improve your content, roll out some features! At Cludo, we offer tools like Synonyms, Misspellings and Boostings. These easy-to-use tools offer instant upgrades to your content and search results.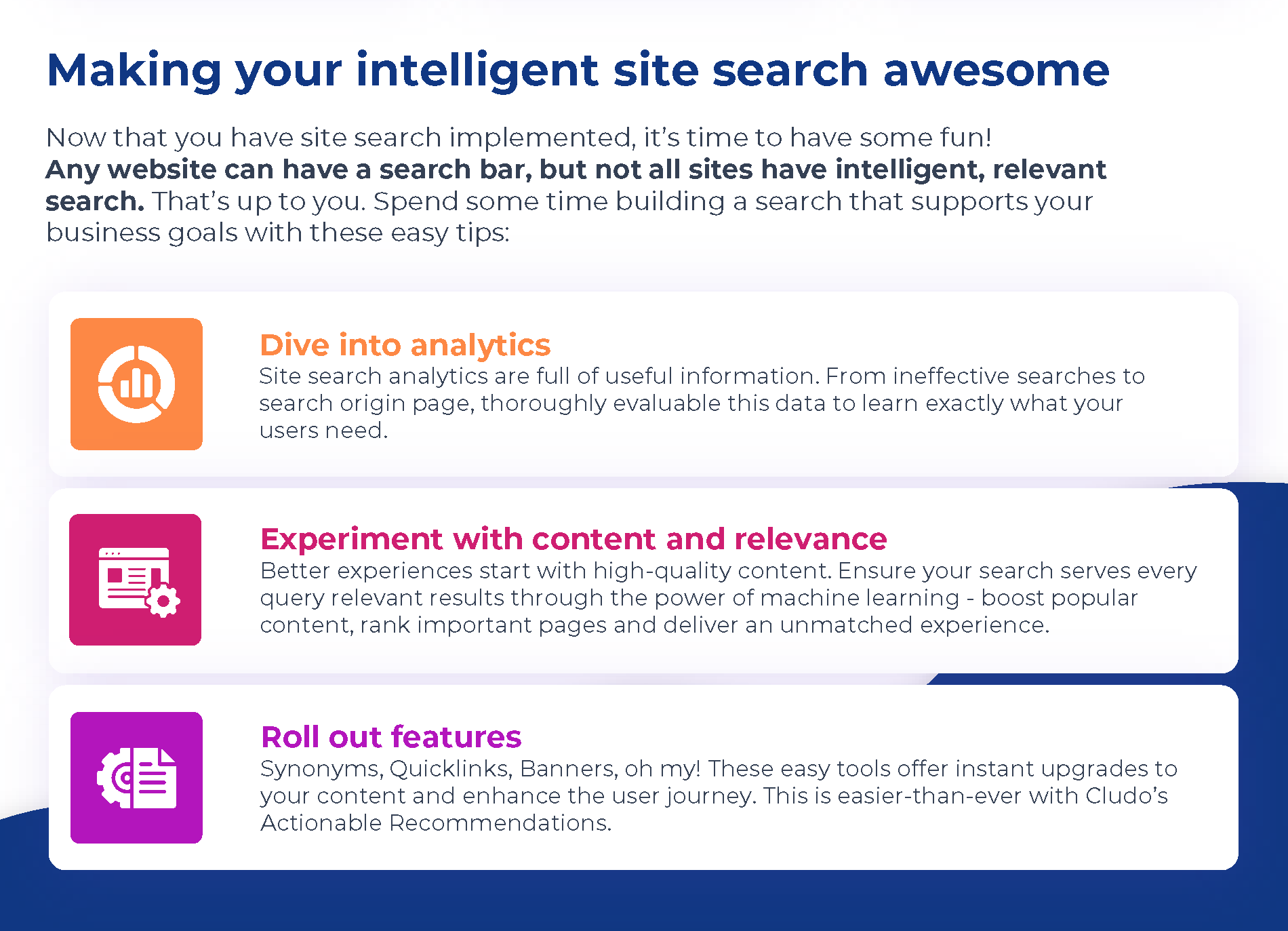 What's next?
Now that you know why site search matters and what a quality search can do for your business, take some time to dive into our eBook: How to Make Your Site Search Awesome (From Quick Wins to Long-Term Strategy).
We created this guide to answer all of your questions when it comes to site search success. From what to do vs. what not to do with your search to tips and tricks for your industry, this resource is packed with everything needed to get the most from your site search. Click below to download the eBook now!